What can go wrong with a roofing and siding replacement in Welland?
The shingles may not have been installed correctly.
There may be a leak in the roof underlayment or flashing.
The roofer might not have used enough nails to secure the shingles.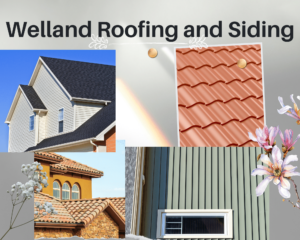 There are many benefits to roofing replacements that you may not be aware of. Roofs protect the house from water damage and make it possible for homeowners to sell their homes without worrying about the roof.
Roof replacement can also improve your curb appeal, add more space inside because of higher ceilings, increase your property value, and lower energy costs.
It is essential to know what can go wrong with this project before signing on for one.
After reading this blog post, you will have a better understanding of all the things that could potentially go wrong when you sign up for "shady" shingle roof replacement projects in the Welland and the Niagara region area homes.
Here are the things that roofers could mess up a newly installed roof.

1. They may not have installed the shingles correctly.

In my experience, one of the most common causes for shingles to become loose and unsightly is that they were not installed correctly in the first place.

Improper installation can lead to water infiltration, ultimately leading to very costly repairs down the line.

2. There may be a leak in the roof underlayment or flashing.

Unfortunately, a leaking roof is not uncommon and usually occurs when water accumulates at the top of the building.

The leak may be occurring near an area where there are no shingles or flashing, which can lead to wet insulation in your home's attic space.

This could create mould issues for you and your family members– terrible for anyone living with asthma or other respiratory conditions.

A leaky roof often happens due to a lack of caulking on sections like underlayment/shingle joints and seams between pieces (like fascia boards).

You may also find these vulnerable places around vents, windows & doors, etc., as well as flashings along ledges - all subject to rain penetration.

3. The roofer might not have used enough nails to secure the shingles.

Hard to believe, but as expert roofers, we've seen this as a common problem. The run-of-the-mill roofer might not have been careful enough to secure the shingles using nails!

The average homeowner should be wary of any home repair work done by their own hands. Additionally, we often hire contractors and supposedly specialists who don't put in as much dedication and effort into fixing your house. They want to be done with it and move on to their next project.

Did you know that one out of 5 roofs leak? AND the challenging part of it is tracking down the leak? That means if there's water leaking through the ceiling from above, then the chances are good that your roof needs repairing or replacing.

If you see signs of water leaking from your roof into your home, it is time to take action.

In this article, I named only 3 things that can mess up your roof replacement. There are many others!

To avoid problems like these down the road, even with the new roof you're getting. You don't end up with any surprises during the process. You MUST hire only roofing professionals!
Welland Roofing and Siding provides expert services for all aspects of residential roofing and siding, including installation, repair, and maintenance. We are passionate about what we do, and we are equally committed to making Welland a better place to live!

Need help or more information? Call us today at 289-272-7152.