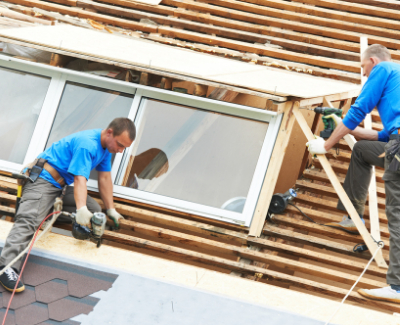 You're in the middle of a heavy rainstorm, and you notice water coming in through your ceiling. Now what? Do you brace yourself for professional roof replacement, which could be expensive, or will a minor repair be sufficient? Before you start grinding your teeth in anxiety, why don't you read on.
Repairing might be cheaper for now, but if you wait too long, it might cost more when it comes time to replace that leaking roof.
Let's talk about what you need before deciding which one is best for your situation and what to do next!
Getting a Roofing Estimate
Before you start talking to roofers, make sure that your roof isn't going to last long enough to warrant replacement. Don't take a small leak as a sign that it's time for a whole new roof. Roofs usually last over 20 years.
If the problem is only minor, you should be able to find the leak and make repairs without calling someone in.
Repairing Roofs Can Be Cheap
It is cheaper to fix a roof than to replace it. The average price for repairing a roof is $966, and the average price for replacing a roof is nearly $15,000.
Insurance Would Cover Roof Repair Costs
If your insurance policy covers leaking roofs, you shouldn't have any problems getting them to pay up. If it's an older building or isn't mentioned explicitly in the policy, you may have to pay for the repairs yourself.
Roof repair jobs are typically considered standard maintenance when it comes to insurance policies.
Don't Wait Too Long To Replace Roofs.
If your roof is older than the estimated roof lifespan, you should likely have replaced your roof already.
Roofs aren't cheap, but they are one of the investments you can make in your home - especially if you plan to stay there for more than ten years.
Don't Ignore Roof Leaks
Putting off repairs for roof leaks (or any other problems) will only end up costing you more in the long run. Roof leaks can lead to mold and water damage, both of which are significant components to getting sick or having structural problems with your home.
These problems can cost a lot more than fixing a roof leak would have, so it's essential to get those issues taken care of as soon as possible if they seem minor.
So, to decide what would be more favorable: repairing the current roof and maintaining its integrity for many years, or replacing it with something new? The answer depends on how much work there is.
If You Decide To Replace Roofs
Of course, there are some final steps — you'd want to get the best service possible out of your contractor. Luckily, Welland Roofing and SIding has lots of experience and favorable reviews!
Ensure that you do repairs correctly and thoroughly before you start shelling out money for a new roof. Welland Roofing and Siding will help you find great contractors to work with - no matter your budget!
Welland Roofing and Siding would love to help you ensure that your home gets the professional roof replacement it deserves!