Is it time to consider Welland Roofing and Siding for a new roof? Do you find yourself looking up at the roof of your home and wondering if the design is outdated? If so, you've answered your queston!
You can install different types of roofs on your home. It all depends on what kind of look you're going for, how much maintenance you want to do, and of course, your budget. But first let's look roofing designs around Welland and surrounding areas.
Read below about some of the more popular designs.
Gable Roof
This style is perfect for homes with traditional or contemporary styles because they have a boxy shape that doesn't change as the house moves from one side of the street to another.
A gabled roof protects from rain and snow by directing water away from the foundation in most cases but does not provide as much insulation as other roofs. It also creates a second story, which can add an extra room to the house and give it a more spacious feel.
Unlike traditional flat roofs that sit directly on top of your home's structure, gabled roofs are laid on top of rafters, which in turn sit upon a plate at the house's walls.
Gable and hip roofs work in conjunction to lift water away from the home's walls, but when pitched too far past 45 degrees, they begin to lose their effectiveness.
Gable type of roofing was known for its distinguishable triangulate shape feature. It is one of the common types of roofing design in America because it is easy to build dies to its design and facilities home ventilation.
Compared to other roofing designs, this is easier and cheaper to install but requires proper framework construction to avoid possible problems like collapsing.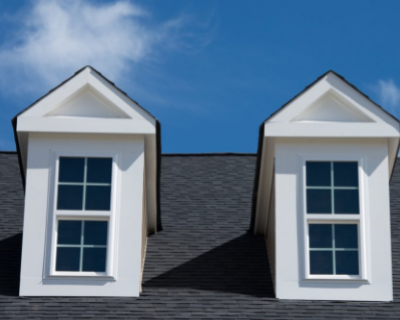 Commonly used roofing materials:
Terra Cotta
Metallic shingles
Asphalt
Cedar Shakes
Clay and concrete tiles
Clipped Gable Roof
The Clipped Gable Roof or Jerkinhead roof is the flattened version of the standard gable roof but follows some reference of hip roof design.
Designed with the basic shape like a gable roof, with two sides rising to meet a ridge, but the top peaks are bent in, creating small hips at the ends of the roof ridge.
Commonly used roofing materials:
Asphalt
Wood Shakes
Slate Shingles
Mansard Roofing
It is a classic French type of roofing, but it became popular in North American households through the years. It has a steeper slope, has four sides with two slopes on each side—which can be curved or flat.
Commonly used roofing materials:
Wooden Shingles
Slate tiles
Flat Roof
These types of roofs are perfect for homes with contemporary or mid-century designs. They do not obstruct the view of the sky, and they provide extra space for second stories because flat roofs typically come in a "flat" shape.
However, there is a downside: a flat roof does not offer much insulation, which can make it quite cold during the winter months. They are also difficult to access, especially for taller individuals.
If a leaky flat roof goes unattended long enough, the water damage can lead to extensive repairs to your home's structure and foundation, so it's essential to keep an eye on this type of roof from time to time.
We can often see this type of roofing on commercial-type buildings in Welland rather than residential houses. Flat roofs can often have a gentle slope.
There are a lot of advantages of having a flat roof like It is easy to build, durable, easy to repair, and easy to clean.
Commonly used roofing materials:
PVC Roofing
Metal Roofing
TPO (Thermoplastic Polyolefin)
Modified Bitumen Roof
Rubber Membrane
Tar and gravel
Roll Roofing
Hip Roof
It is quite the same as the gable roof, but the hipped roof has sloping styles in 4 definite directions. All of its slopes are downwards. It is more stable than gable roofs because of its unique features. Those features made it more durable and sturdy.
Commonly used roofing materials:
Asphalt shingles
Cedar Shakes
Tiles
A-Frame Roofing
The name of this roof design describes what it looks like. It is A-shaped that ends until the ground. Its side is steeply angled, and its ceiling can be open to the top rafters.
Commonly used roofing materials:
Asphalt Shingles
Cedar Shakes
Tiles
Solar Roofing
This roof is designed specifically for alternative sources of energy. It can come in various shapes, but the basic gist is that they allow the sun's rays to heat your home via panels located on top.
With a solar roof, you do not need electricity or gas to heat your house during the winter months because it functions by creating its energy source out of thin air! It's a great alternative to traditional heating methods and costs because you never have to spend a dime on it.
Solar roofs can add an elegant look to your home. However, flat roofs lack insulation and can be susceptible to leaks if not properly maintained. If you choose this type of roof, make sure to get a professional measurement of your home's pitch and send it to the contractor before installation begins.
Lastly, you don't have to stick with a traditional look if you're going for a modern or contemporary style. Try working with your contractor to find a design that works best for the overall layout of your home.
At Welland Roofing and Siding, we believe in quality service and quality supplies. We have a wide range of roofing materials for your home. All you have to do is visit our site or contact us via phone or email.
Tell us the type of material you want us to use for your roofing in Welland, send us some pictures if possible, and we'll take care of the rest.