Choosing a roofing contractor in Welland or anywhere for that matter can be daunting. There are many different types of roofs, materials, and price ranges to choose from. How do you know who is the best for your needs? We've done some research on how to make sure you hire the right person.
Here are some tips for choosing the best contractor for you and your needs.
Check out reviews on the contractor's website and social media pages
It's important to look at reviews. The best way is to read them online because it's easy and convenient. You can even check out their website or social media pages for more details about the company.
Ask friends, family, or colleagues for recommendations
We recommend you ask trusted friends and family members for their recommendations. Sure, it's not always easy to know with certainty who will give good advice when we're looking into various options available in this day and age. But there are some tried-and-true methods that work well as a starting point!
Ask people close by - like your colleagues at work or neighbors from across town – if they have ever dealt with roof repair or replacement. Perhaps together, your combined knowledge can help guide you along the right path
Be wary of contractors who do not have a license
Although some roofing contractors work with no license, you should be careful if they do not have one. Check that they are registered to work in your area by looking for their name on the official site of the local government's department of business affairs
Get at least three quotes from different contractors in your area.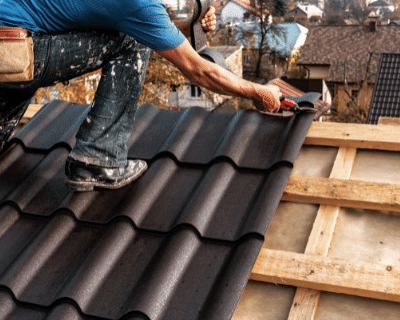 Three estimates will ensure that you're getting the best deal possible for your roofing or siding job, and it'll also help to protect you in case anything goes wrong during the course of the project.
It is also an indicator if one company is being honest and straightforward with its pricing. A lowball bid is often an indication that a company may be concealing something and its true intention. Too high of a price often indicates that they might not be willing to negotiate.
With three bids, however, you should be able to choose which service will fit your needs, granted, of course, that you have given them the same basis for their estimates.
Review your contract carefully before signing it to make sure everything is spelled out clearly
Be aware of what you sign. Review all contracts before signing them and make sure that there are no hidden fees or clauses in them.
The contract should include what is being done, how long it will take, what kind of warranty they offer, when payment is due before, during, and after completion of work, and if there are any other costs not included in the service.
If you are in need of replacement roof or roof repairs, don't hesitate to seek the services of Roofing Welland.
You deserve an expert roofing company that is reliable and won't leave you waiting.
With Roofing Welland, we have all the qualities of dependable contractor-our installers are thorough with their work so as not to create any damage; they clean up after themselves in order for us not to stain your home or yard from any leaks along the way (you even get free quotes online!).
And when it comes time to choosing a roofing contractor for your house - nobody does better jobs at unbeatable prices like us!
We've been in the business of keeping our St Catharines dry and protected year-round!