Are you planning on installing a new roof for your home? Or trying to replace a damaged one? If yes, let me ask you — What is the best roof to use in your house?
Some of you might not know many types of roofing materials. Roofing materials have different textures, colors, and materials used to make them.
In general, the more durable roofing materials are, the higher the prices will be.
But do not worry; we are here to guide you and give you some knowledge about different materials to help. We hope this will help you choose what you should use when installing a new roof.
Asphalt Shingles
It is the most commonly used type of roofing material in America. They are environmentally friendly. It is made of organic materials such as waste paper, wood fiber, cellulose, or other materials.
The price for asphalt shingle can vary depending on your roof's state. Usually, you can expect to pay around $1 to $2 per square foot.
There are some ways to keep your roof lifespan longer, and for sure, you'll be able to use most of your roof. Asphalt tiles usually last 15 to 30 years.
Ceramic Roofing Tiles
If you want sophisticated-looking roofing material, you should try ceramic roofing tiles. Made by baking molded clay, these tiles can range from white, yellow, orange, and brown. Ceramic roofing tiles are expected to last 50 to 100 years or more.
Ceramic roofing tiles are resistant to fading and are fireproof. You can expect to spend about $2 to $10 per square foot on ceramic roofing tiles.
Metal Roofing
The number of homeowners who chose this type of roofing material increased due to the outstanding qualities it offers. It's low maintenance, lightweight, and more environmentally friendly. But the install for this material needs lots of effort to do. You surely need a professional to act on this one.
Repainting is an option for metal roof users once it loses its shine. This roof ranges from $5 to $14 per square foot, depending on the type of metal roofing installed. Expect this type of roofing to last 40-70 years.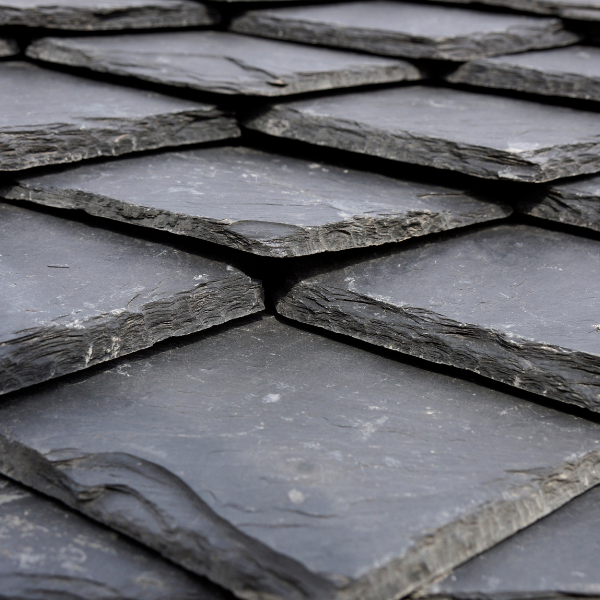 Slate
Slate roofs are also examples of sophisticated roofs if you want. It won't burn, is waterproof, resists mold and fungus, and has an expected life of 100 years. Slate is available in a variety of colors and styles.
It is suitable for areas where it usually rains, but it breaks easily and can be considered a bit pricey. It usually ranges from $9 to $16 per square foot.
Wooden Shingles
Wooden Shingles are a great, high-end option for roofing material. You can expect them to last 30 to 50 years as long as the material is adequately maintained. It is also fit for any climate, mainly sunny regions because they resist UV rays and is excellent for the area that experiences strong hurricanes or thunderstorms.
These are environmentally-friendly roofing shingles. Wooden can also come with a fire-resistant coating — so be sure to choose that. Wooden roof upkeep includes yearly cleanings and repainting or staining every five years. You can expect to pay at least $6 to $15 per square foot.
Clay and Concrete Tile
This material is sturdy and heavy-duty. It can withstand hurricanes, high heat, and even earthquakes. Their prices are higher than standard roofing tiles, averaging $11 to $18 per square foot. But do not worry about the expenses. Think of it as an investment since this type of roofing tile is long-lasting and expected to last for 50 to 100 years or more.
Solar Tiles
Solar tiles are roofs that look like your plain old shingled roof but are photovoltaic cells built into the shingles. This might be a bit costly, but I assure you that your electric bills will surely lessen after installing this roofing material. The expected price for this roofing material is about $15,000 to $20,000.
Solar tiles have been in the market for almost ten years now, and the predicted life expectancy for solar tiles is about 25 – 40 years. This is truly a real deal of investment.
There you have it — a list of possible roofing materials you can choose from when installing a new roof of your home.
For additional information, contact Roofing Welland. Our team of expert roofers is ready to help you. For all your roofing needs, be it repair or replacement, our professional roofers are the ones who can provide you with the roof that you desire!