Whether it's budget-friendly heritage house renovations such as a roofing installation in Ontario or a siding replacement right up through significant repairs such as fire damage restoration services, we offer at affordable pricing! 
Our roofing and siding experts have a wealth of knowledge. We know how to combine new roof and siding technologies with classic roof shapes and materials. We make sure that all these elements plus our craftsmanship will add value to Heritage homes.
A roof is one of the essential parts of any house. That's why it pays off financially and makes your home more secure, knowing ours specializes in new roofing installation and restorations for Ontario homes across all demographics. 
You can also trust us if you have specific needs, such as aging chimneys needing repair before they cause problems later down the line.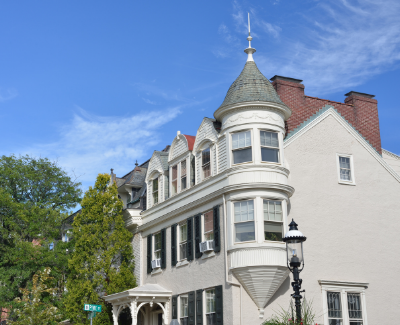 Roofing Jobs Require Expertise and Knowledge
The type of roof and siding is one factor that can vary significantly between a house. To design the perfect job for each structure, it's crucial to know what they are made of . We also take into consideration how wide or tall their particular project needs to be relative to other factors. We also do not overlook height restrictions from utility lines.
A lot goes into making sure your home looks its best: significant differences exist when designing jobs around roofs versus walls!
When you're looking for a company that can give you a roof that will stand up against Mother Nature's worst weather elements, look no further than Roofing Welland for roofing installation.
Our 25-year history is a testament to our team's success. We're proud to say that you can count on us for quality workmanship in every aspect of home or commercial building.
Leaky Roofs Are a Money Pit!
Broken roofs can cause leaks that are costly repairs down below and lead to other significant problems like insulation failure. Thiis costs homeowners more money every year they fail to maintain them properly.
Be wary of inexperienced installers who do a shoddy job instead of researching different types (or styles) of architecture. This could result in a disaster of major proportions!
For this reason, we at Roofing Welland take our time to know all there is about the building. We also take into account its location, and design it needs before we even pick up our tools! We also source only the highest quality materials and products. This ensures you get strength and durability for many years down the road!
Roofing Solutions Vary
Yes, every home has a roof. Some roofs are better than others, though, and it's essential to know the differences between them if you want your house to have lasting value in the years ahead!
A Word About Roof Styles
There are roofing materials (shingles, metal roof panels) that accentuate the shape of a given type of roof. Just as important, they keep your home environmentally friendly and energy-efficient with products like zinc or aluminum in their composition!
Keeping the style while maintaining energy efficiency seems to be a challenge to many roofers. With our experts at Roofing Welland, we have perfected the process. We can assure you that you'll get a roof that is both green and will not detract from your roof style!
We are proudly the best roofers and siding specialists in town. You can trust us to guide your decision about which roofs, materials, or styles to use. They do deserve protection from damage!
Roofing Welland is a team of experts. Your heritage home will not be a challenging project. Instead, it will be an example of what craftsmanship means in these modern times! 
Let us help you keep your beautiful property looking good while bringing it back from any damage caused by rain or other weather conditions. Our expert roofing installation process is sure to please even the most discerning customer.
Talk to one of our experts at 289-272-7152 or visit our website https://roofingwelland.com.