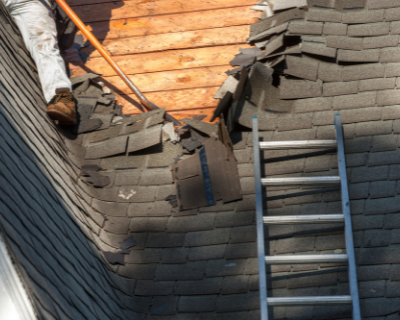 It is essential to ensure that the roof replacement in your Niagara home is done right. A good roof will protect your home from all sorts of problems – leaky roofs can cause mold, mildew, and more. There are many choices when you need a new roof for your house, but hiring a roofing professional is necessary if you want the best results!
This blog post will discuss some issues a homeowner may face when doing a roof replacement and why professional help is needed.
A roofing professional can help you choose the type of roof that will work best for your home.
Homeowners may feel intimidated and confused about what type of roof to choose. There are many types of roofs out there - flat roofs, tile roofs, wood shake roofs – the list goes on!
This can be a problem because trying to make such an important decision without expert help could select the wrong kind of roof for your house.
A roofing professional will help you choose the right roof type for your home. You can be sure that they will install it correctly.
Professional roofers know how much material they need beforehand.
Another issue homeowners in Niagara may face when replacing roofs is not figuring out how much material they need ahead of time. The roof on the house can cover up an entire section of the wall. Getting enough shingles or roofing tiles is essential to the success of your roof. 
The roofing professional you work with can help you figure out how much material you will need. This way there won't be aren't any shortages or excesses when it comes time to install!
Expert roofers know the type of installation your roof needs.
Homeowners may not realize what type of installation their roof needs. For example, roofers who work with clay tiles typically need to install roofing underlayment before putting the tiles down.
This is a crucial step that will protect your home from water damage and mold. If you don't know what type of installation process your roof requires, hiring a roofing professional is a no-brainer. You can be sure they will do the installation correctly and quickly.
Roofing professionals know the right accessories for your house.
Homeowners may not have any idea what types of roof accessories they need for their roof until after it is already down!
Roofs often require different finishing touches, such as flashing or drip edges, to ensure water doesn't get in the wrong places. This is another issue that roofing professionals will know how to handle swiftly and efficiently. This will ensure your roof looks great for many years after installation!
Roofs need regular inspection and maintenance to avoid leaks or damages to your house.
Homeowners may not be able to tell if their roof has any damage until it's too late. Sometimes roofs need fixing before they even start leaking or becoming damaged.
You can ensure that your roof is always in good shape and has no issues before the problems even begin.
When you hire roofing professionals in Niagara to do roof replacement, you can avoid all of these problems. That way, your roof will be in good shape for years to come! 
For more information about Roofing Welland, contact us today!