Hiring a contractor for roof and siding replacement in Welland will allow you more security when choosing a product. There's also ease of mind when making such a big decision about any part of your home exterior. That's because you know that they are familiar with your location.
A roof is expensive and doesn't have the fancy warranty that most people want when buying furniture or electronics. You don't want to pay that high cost if anything goes wrong down the road with your roof.
Siding is essential, too. It's the first line of defense against weather and pests.
Here are some things you need to consider:
ROOFING MATERIALS THAT HAVE PROVEN THEIR RELIABILITY THROUGH THE YEARS
Roofing options have varied through the years, but several are still used today because they are affordable and proven to last for many years, with little care needed between shingles changes.
One material that has been popular since the 1950s is asphalt shingles. They are generally fiberglass or organic fibers sandwiched between heavy paper, aluminum foil, or another metal alloy.
Asphalt is a petroleum byproduct that helps resist wind, rain, and pests.
They come in various colors and styles so that you can find the perfect match for your home. And they're generally affordable, too.
Another popular roofing material is metal. It has been used for centuries and comes in various materials like aluminum, steel, or copper. It's fire retardant and can last up to 50 years with little maintenance required.
If you're looking for a more sustainable option, then cedar shake shingles might be right for you.
They are made from renewable resources and are biodegradable. They also add natural insulation to your home.
However, they require more maintenance than other roofing materials and can be expensive upfront.
SIGNS THAT MAY INDICATE YOU NEED A NEW ROOF
There are a few signs that may indicate you need a new roof. If you notice any of these, be sure to contact a contractor right away for an evaluation:
The shingles are curling, buckling, or missing altogether
There are large patches of algae or moss on the roof
The roof is leaking in more than one place
The roof is over 20 years old (depending on the material)
You can see the light coming through the roof decking
The roof is loudly vibrating when it rains
The attic is sweltering in the summer or freezing in the winter
In the spring and summer, be sure to inspect your roof regularly for any potential problems.
The fall is also a great time to take a look at your roof before winter approaches. And if you live in an area with snow, make sure to do it after a significant snowfall or blizzard.
Hidden damage can cause future problems, which may be more costly to fix down the road, so hire a contractor as soon as you notice anything unusual about your roof.
SIDING MATERIALS THAT ARE AVAILABLE FOR YOUR HOME'S STYLE
There are many different siding materials you can choose for your home exterior - too many to name! Popular options are vinyl, fiber cement, wood, and metal siding.
Vinyl is a type of plastic that can come in many styles and colors and mimic the look of other materials.
It's durable, affordable, and low maintenance. And it doesn't require painting or staining as wood does.
Fiber cement comprises Portland cement and cellulose fibers, making it more weather resistant than other siding materials. The result? Durability and strength without any artificial ingredients, so it's safe for your family and the environment, too.
Metal comes in various options: aluminum, steel, copper - you name it!
While its upfront cost may be high compared to wooden or vinyl options, metal siding is very durable and can last for up to 50 years. It can be painted or stained to resemble just about any other material.
Choosing the suitable exterior materials for your home is about more than just aesthetics - it's also about protecting your house from outside elements while living in comfort year-round.
A contractor will help you find the best options available based on your budget and style preferences!
HOW TO HIRE A CONTRACTOR FOR ROOFING AND SIDING NEEDS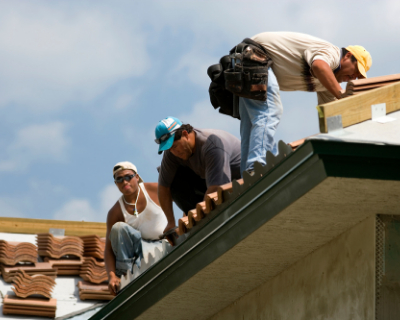 It's essential to hire a contractor for roof and siding replacement or repair. You wouldn't want to attempt making these kinds of repairs on your own.
When hiring a contractor, make sure they are fully insured and licensed professionals with experience in their field.
It's also wise to get at least three estimates from different contractors before you make any final decisions - multiple estimates will help you narrow the list down, so the right choice becomes clear!
And remember that a cheaper quote doesn't necessarily mean it is better value for your money or time since correctly performed workmanship is crucial in avoiding future problems down the road.
THE BEST TIMES TO RENOVATE YOUR ROOF IN AN EFFICIENT WAY
If you choose to replace your roof, it is best to do that before summer or winter.
These are peak seasons for roof replacements simply because the contractors have more time on their hands.
The best season would be a milder one so as not to inconvenience your contractor and yourself by having them work in extremely hot or cold conditions.
Another good reason why you should consider replacing your roof before summer or winter is due to the holidays. Your home must look its very best at these times as it's an opportunity for friends and family to visit and spend some time in your house.
There are many other reasons why replacing your roof before summer or winter might be a good idea, so it's best to get in touch with a contractor.
They can give you the best advice regarding when is the best time for a roof and siding replacement. That way you can enjoy and benefit from their work without any interruptions or problems.
WHY YOU SHOULD CONSIDER REPLACING YOUR ROOF TODAY
Your roof serves as one of the main protective layers for your home. It may last anywhere from 20-50 years, depending on its condition and maintenance over time.
As such, it is often worthwhile to put in a new roof if yours is more than 15 years old. Age isn't the only determining factor, though. Things like weather conditions and extreme temperatures can also take their toll on your roofing system.
The Best Roofing Contractor in Welland
At Roofing Welland, we can help you determine whether or not a new roof is right for you.
We'll first assess the current condition of your roof and system and then provide you with a free estimate on what replacement or repair would be.
Most importantly, we're fully insured professionals who will work hard to protect your property as we perform our services!
Roofing Welland is a professional roof and siding replacement or repair contractor with over 20 years of experience in the industry.
We offer a wide range of services, from new roof installation to storm damage repairs, so no matter what your needs may be, we can help!
Contact us today to learn more about our services or schedule a free consultation!