Winter is coming! Are you prepared for the cold months ahead? Living in Welland, preparing your home including your roofing, is essential before winter arrives. Our home winterizing checklist will help you get ready for what's coming and keep your home safe during this cold season.
1) Check all windows and doors
Ensure they're secure by checking that locks are working correctly, make sure screens are intact, caulk loose joints or cracks in door frames with silicone sealant or caulking gun, replace weather stripping if it looks worn out.
2) Get heating systems serviced
Keep an eye on furnaces and gas water heaters to ensure they don't run out of fuel before the spring thaw arrives.
3) Clear gutters
Remove debris like leaves and small twigs from gutters and downspouts to allow for proper drainage.
The weight of snow on your roof's accumulations could cause damage during winter storms.
5) Check siding
Repair any cracks or holes before falling ice or snow get them any bigger.
6) Inspect roofing
Look for shingles that are curling, breaking, or missing. Also, look out for leaks inside the home, especially around chimneys and skylights.
7) Seal roof flashing
Make sure to seal the flashing tight to prevent cold air from infiltrating the attic space where heat can escape.
8) Check for ice dams
If you notice any icicles hanging in front of your roof, it can be a sign that water is building up behind the dam and, in turn, could cause ice jams at the edge of your roof underlayment or shingles.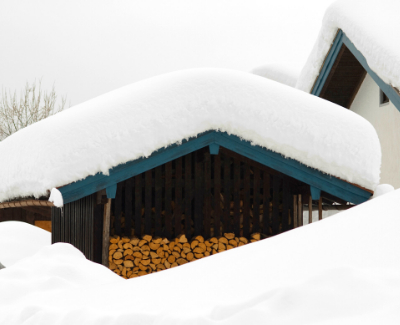 9) Replace gutters
Gutter guards don't last forever and need replacement as they age.
10) Clear eavestroughs
Make sure your home's downspouts are clear of leaves and snow, so water drains away from the house.
11) Winterize outdoor faucets
Drain your outside faucets by opening up tubular valves for hose bibs, and open up anything else that brings in water.
12) Clean out fireplaces
A clean chimney will make it easier to use your fireplace this winter, which means you should have the flue inspected and cleaned if need be.
13) Powerwash
You can powerwash the exterior of your home, including all siding and brickwork. This will remove mold from shingles, algae from stucco walls, and dirt from wood.
14) Winterize plants
Make sure to cut back any perennials that didn't make it through the winter, mulch plants to protect them from frost, etc.
15) Give Your Landscaping Some Attention
If you'd like to avoid dead plants in your landscaping during the winter months, it's best practice to apply a layer of organic matter in the form of compost or hardwood mulch in the fall so that grass can grow with less stress.
The importance of each item in the home winterizing checklist is to keep your home safe during harsh winters. There are many steps to take to ensure you deal with your roof correctly. This will help your home be safe during winter. 
Keeping your home safe in Welland includes maintaining beautiful, durable, precision roofing and siding. Welland Roofing and Siding has the pros who can deliver roofing solutions for you. 
For more articles about tips and DIY maintenance on your roof, check out our blog page! We've got you covered! Call us now at 289-272-7152.